GUADEC 2017 is being held at Manchester Metropolitan University (MMU), which is located just to the south of Manchester city centre. The core conference days (Friday 28th July – Sunday 30th July) will be hosted at the Brooks Building, MMU Birley Fields Campus.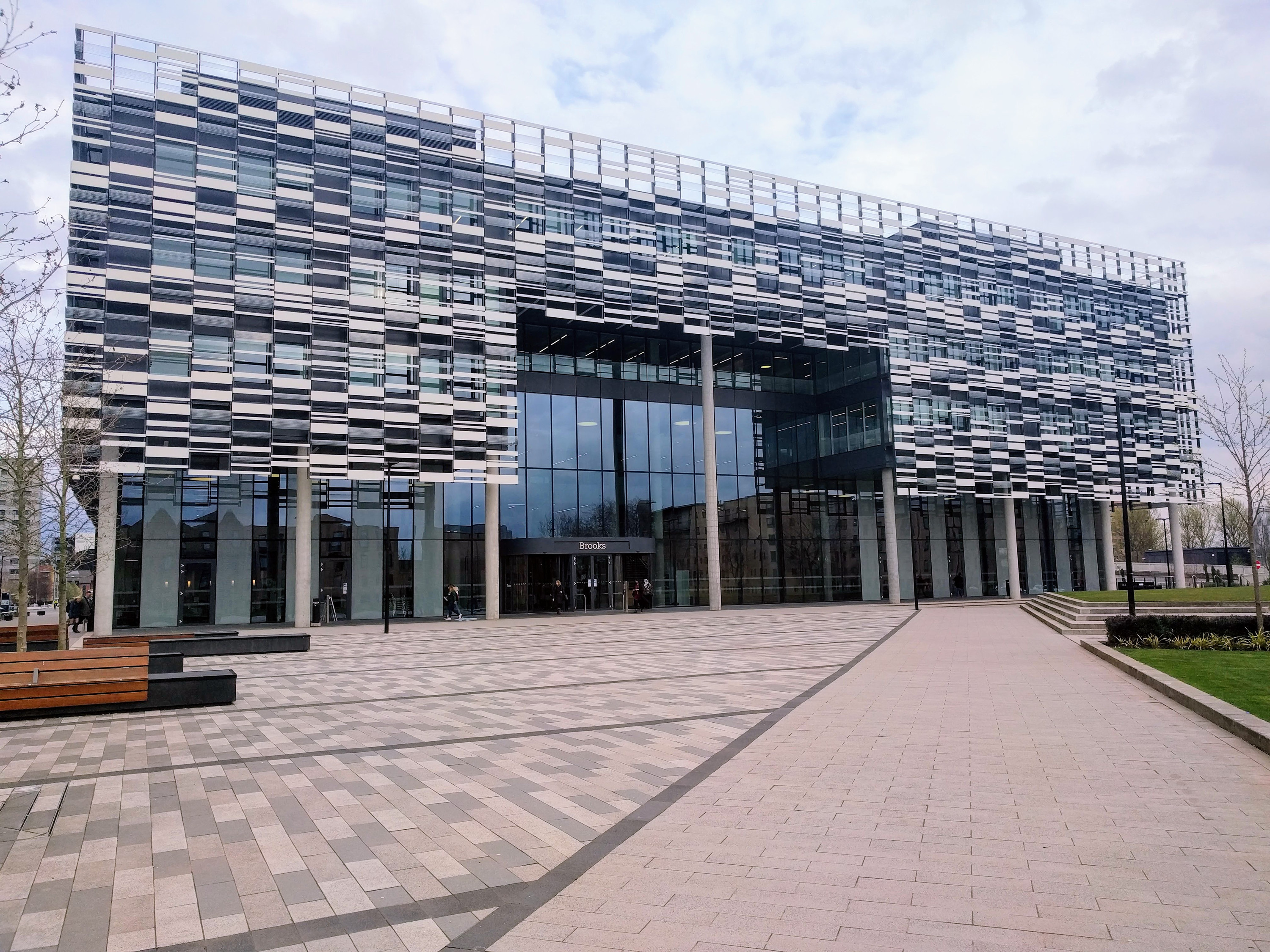 Address:
53 Bonsall Street
Manchester
M15 6GX
Map: OpenStreetMap, Google Maps
Catering
There is a canteen at the venue which will be selling hot food, hot and cold drinks, sandwiches and snacks between 09:00 and 16:00 every day.
Surrounding area
Birley Fields campus is located in Hulme, a neighbourhood with an industrial heritage that has resurfaced in the past few years. Particularly popular with students as it's the new home for the Manchester Metropolitan University campus, where the conference is taking place.
Stretford road is the main road near the conference venue, where you can find different shops and cafés. From supermarket and convenience stores, to bars, takeaways, a pharmacy, a Post Office and an ATM.
Hulme Park is also nearby, where you can go for a bit of green scenery, to have your lunch or just relax.
Food and drinks
Kim by the Sea (4min walk) Cosy café with breakfast and Mediterranean food. Sofa area upstairs to relax and have some drinks.
From 11am to 11pm every day.
49 Old Birley St, Manchester M15 5RF
Grano café (2min walk) Café and bar, serves hot drinks and hot food, but also beer and other alcoholic drinks.
Saturday: 10am – 11pm, Sunday: 10am – 6pm.
56 Stretford Rd, Manchester M15 5JH
Buzzrock (3min walk) Caribbean takeaway with a few tables to eat in. Good and cheap.
Saturday: 12am – 7pm, Sunday closed.
166 Stretford Rd, Manchester M15 5TL
Café Fresco (3min walk) Opens at lunch, for sandwiches and toasties.
Saturday: 10am – 4pm, Sunday: 10am – 3pm
164 Stretford Rd, Manchester M15 5JH
Subway
Saturday: 9am – 9pm, Sunday 10am – 9pm
170 Stretford Rd, Manchester M15 5TL
Munchies (4min walk) Pizza and kebab takeaway.
From 3pm to 11pm every day.
321 Stretford Rd, Manchester M15 4UW
Supermarkets
Co-op supermarket (2min walk)
Saturday: 8am – 10pm, Sunday: 8am – 11pm
94 Stretford Rd, Manchester M15 5JH
Several off-licences on Stretford road.
Asda (10min walk). Big supermarket for all your supplies. It includes a McDonalds and a KFC. There is also a chippy (The Corner Plaice) nearby, for some great traditionally greasy fish and chips.
Saturday: 6am – 10, Sunday: 11am – 5pm
100 Princess Rd, Manchester M15 5AS
The Shed, where the workshop is held, is just 12min walking from the Brooks Building. Located in All Saints campus, it's next to Oxford road, one of the busiest bus routes in Europe.
Around Oxford road you can find:
Food
Pubs
And more…
If you walk to Oxford Road you will find many more restaurants, pubs and takeaways.